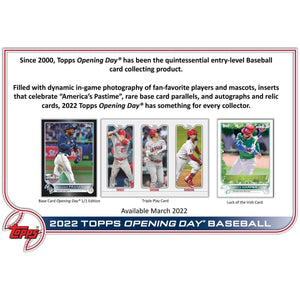 2022 TOPPS OPENING DAY MLB BASEBALL HOBBY BOXES - BRAND NEW!
Regular price
$46.00
$0.00
Unit price
per
2022 Topps Opening Day Baseball Hobby Box
AVAILABLE MARCH 9TH
Look for Opening Day 1/1 Parallels and Base Card Image Variations!
Since 2000, Topps Opening Day has been the quintessential entry-level Baseball card collecting product.
Filled with dynamic in-game photography of fan-favorite players and mascots, inserts that celebrate "America's Pastime", rare base card parallels, and autographs and relic cards, 2022 Topps Opening Day has something for every collector.

PRODUCT BREAKDOWN:
Base Cards:
200 of the game's most popular superstars, rising young players, and new rookies are highlighted here. Includes cards of players that will be featured in Topps Baseball Series 2!
Parallel Cards:
Opening Day Edition - Limited to 2022
Opening Day 1/1/ Edition - Numbered 1 of 1
Printing Plates - Numbered 1 of 1
Insert Cards:
1 of the following per pack!
Opening Day: Celebrating the start of the season, these cards capture the pageantry of the 1st game played during the 2021 MLB season.
NEW! Triple Play Cards: A unique triple subject card that highlights some of the best players in the game.
NEW! Bomb Squad: Featuring the best home run hitters in the game, past and present.
Mascots: Everyone's favorite anthropomorphized creatures take top billing in this set.
NEW! Luck of the Irish: Highlighting teams that wear green for St. Patrick's Day.
Dugout Peeks: Get a glimpse at some of your favorite players as they watch the game, interact with teammates, or just relax within the confines of the team dugout.
Walk this Way!: The best walk-off hits from the 2021 MLB season are featured with imagery to match.
Base Card Image Variations: Over 25 players will receive an image variation base card featuring a completely different image from the 2021 MLB season.
Autograph Parallel - Numbered to 10
Opening Day Autographs: Up to 20 MLB rookies and stars are celebrated on cards that also have their signature.
Ballpark Profile Autographs: Some of the best ballpark personalities are featured with an on-card autograph.
Opening Day Relics: Collectors will "Own the Game" with these cards that contain pieces of game-used memorabilia.
Mascot Relics: Our favorite mascots around the league are featured with pieces of mascot-worn memorabilia.
Diamond Relics: Cards will feature a player and dirt from the Baseball diamond from his home stadium.
Turf War Dual Diamond Relics: Two players featured with an image on the front and back of card along with dirt from the front players home stadium.
Major League Mementos Relics : Unique relics that highlight different aspects of MLB ballparks.
Mascot Patch Relic Cards: Manufactured patch relics highlighting some of the top mascots in the game.
Mascot Autograph Relics: The ultimate mascot card featuring an autograph and relic from the best mascots in MLB.
Autograph Diamond Relics: Cards will feature a player and dirt from the Baseball diamond from his home stadium, along with an autograph.
NEW! Dual Autograph Diamond Relic Book Cards: Book cards hit Opening Day for the first time ever! Dirt relics featured from the players' home stadium alongside their autographs.

36 Packs Per Box, 7 Cards Per Pack
---