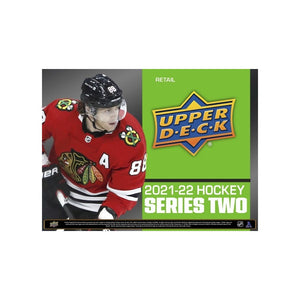 2021-22 UPPER DECK HOCKEY SERIES 2 RETAIL BOXES - PRE ORDER RELEASE MAY 2022
Regular price
$64.00
$0.00
Unit price
per
Shipping
calculated at checkout.
Note regarding Pre-Order Shipping – If you pre-order an item as well as purchase another in stock item at the same time, we will ship everything together once the pre-ordered item arrives. If you would like the in stock product shipped before the pre-order then please order it separately.
Please note: You will be charged immediately for the item and it will be shipped once stock arrives. Should we have any stocking issues - your order may be refunded.
2021-22 UPPER DECK HOCKEY SERIES 2 RETAIL BOXES - PRE ORDER
CONFIGURATION:
- 8 CARDS PER PACK
- 24 PACKS PER BOX


CONTENT HIGHLIGHTS
• Series 2 features the next 250 cards of the 2021-22 Upper Deck Base Set. Collect new veteran and Young Guns® cards - the most anticipated rookie cards of the year! Look for six of these cherished rookie cards in every box, on average.

• Series 2 also features the continuation of select Series 1 insert sets:

- UD Canvas®: Collect new star veterans and Young Guns®, as well as High Series Retired and High Series Program of Excellence cards. Each box contains at least three of the popular UD Canvas® cards, on average.

- Honor Roll®: The next 50 cards of this classic UD insert set - which is new to Series 2 - feature veterans and rookies. Look for two per box, on average!

- Dazzlers: Since its debut in 2020-21, this brightly-colored collection of popped-out, full-bodied star vets and rookies has been a hit! Collect both the Blue (one per box, on average) and Red (two per box, on average) versions of the next 50 cards. The Red versions can only be found in Retail boxes and Gravity Feed packs!

- UD Portraits: The next 40 cards in this long-running favorite feature only rookies!

• The O-Pee-Chee Update and O-Pee-Chee Retro Update (sporting a vintage O-Pee-Chee design) sets are back! Both sets feature veterans and top rookies. Look for Blue Border parallels of the regular update set.

• New! Add more awesome rookie cards to your collection via the Rookie Threads Retro set, a new memorabilia set only available in select retail SKU's!

• Look for new and super rare Day With The Cup cards featuring members of the 2020-21 Stanley Cup® Champion Tampa Bay Lightning!


PRODUCT BREAKDOWN
Content, including the stated checklist #'ing, card #'ing and ratios, is subject to change without further notice. Additionally, this list may not contain all cards available in the product as there could be unannounced cards.

Young Guns® Cards

Card #'ing/Ratio
Young Guns® (451-500) 1:4
UD Canvas Young Guns (C211 - C240) 1:48

More Rookie-Specific Cards (2021-22 Rookies)

Card #'ing/Ratio
O-Pee-Chee Update Rookies 1:8
O-Pee-Chee Update Rookies - Blue Border Parallel 1:30
O-Pee-Chee Retro Update Rookies 1:15
NEW! Rookie Threads Retro 1:72
UD Canvas High Series Program of Excellence (C256 - C270) 1:192
UD Portraits Rookies (P-41 - P-70) 1:14
UD Portraits SP Rookies (P-71 - P-80) 1:120

Non-Rookie-Specific Insert Cards

Card #'ing/Ratio
Day With The Cup 1:2500
Dazzlers - Blue (DZ-51 - DZ-100) 1:24
Dazzlers - Red (DZ-51 - DZ-100) 1:12
NEW! Honor Roll® (HR-51 - HR-100) 1:12
O-Pee-Chee Update 1:30
O-Pee-Chee Update - Blue Border Parallel 1:120
O-Pee-Chee Retro Update 1:60
UD Canvas® (C121 - C210) 1:8
UD Canvas High Series Retired (C241 - C255) 1:192

Regular Base Set Cards

Card #'ing/Ratio
Base Set (251-450) N/A


---